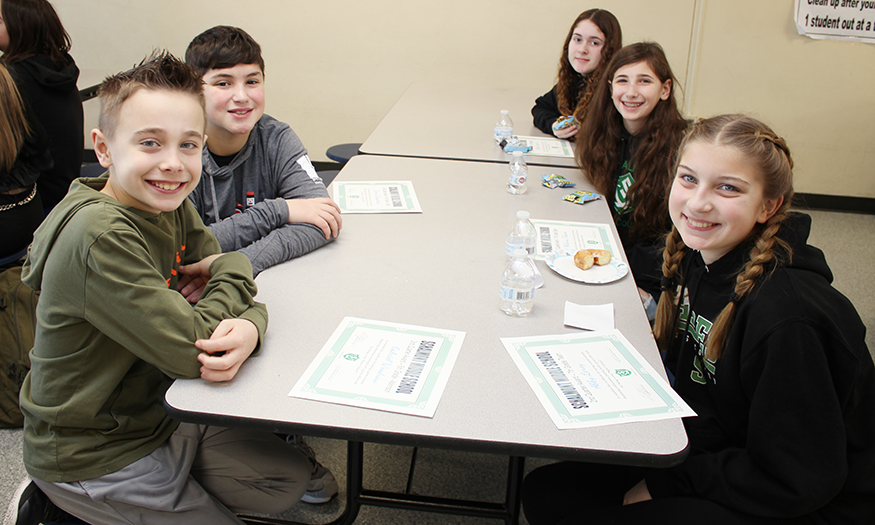 Schalmont Middle School held a Sabre Citizen 2nd Quarter Award Breakfast Friday to recognize students who have a good attitude, are enthusiastic and put forth a good effort.
Faculty and staff nominate students for the awards each quarter and students enjoy a special breakfast during first period where they can spend time with friends.
Congratulations Madeline Bargy, Riley Benkoski, Audrianna Bertrand, Ellie Beston, Aubrey Birch, Maddox Brennan, Vince Calidro, Alexa Carney, Isabella Cassillo, Anna Catalano, Sandy Cirilla, Julianna Civitello, Mia Corraro, Kenny Dagostino, Anthony DeWitt, Duilio DiCocco, Arianna Ellwood, Madelyn Erschen, Giuliano Ferluge, Lauren Fitzpatrick, Simon Garretson, Kayleigh Garrow, Scarlett Gregg, Lorenzo Groulx, Tristan Flory, Brycen Husch, Elyssia Ibarra, Emma Ishmael, Matthew Keenan, Owen Keith, Keira Kelly, Matt Kenyon, Ahmad Khan, Anna Krenav, Alexander Krutz, Aryan Kumar, Abby LeRoy, Justin Madison, Josiah Madison, Brenden Majkut, Chloe Mallozzi, Cheyanne Mancini, Braden Marotta, Anthony Massaro, Elle McCrief, Isabella Micalizzi, Madelyn Montrym, Tirone Nelson, Nixa Nurse, Eve Paulus, Ashton Pedinotti, Vincenzo Pezzuto, Miriam Pierce, Lucy Reece, Ava Rodriguez, Christopher Cruz-Romero, Joseph Rue, Frankie Salluzzo, Aryan Sankar, Ashton Schraa, Ethan Sitterly, Nicole Steele, Abigail Tanner, Milania Tebano, Gabriel Tommasone, Libby Trestick, Lauren Tur, Obineche Udemgba, Juliana Verrigni, Kaitlyn Villano, Gabriel Woodrow and Sophia Zink!