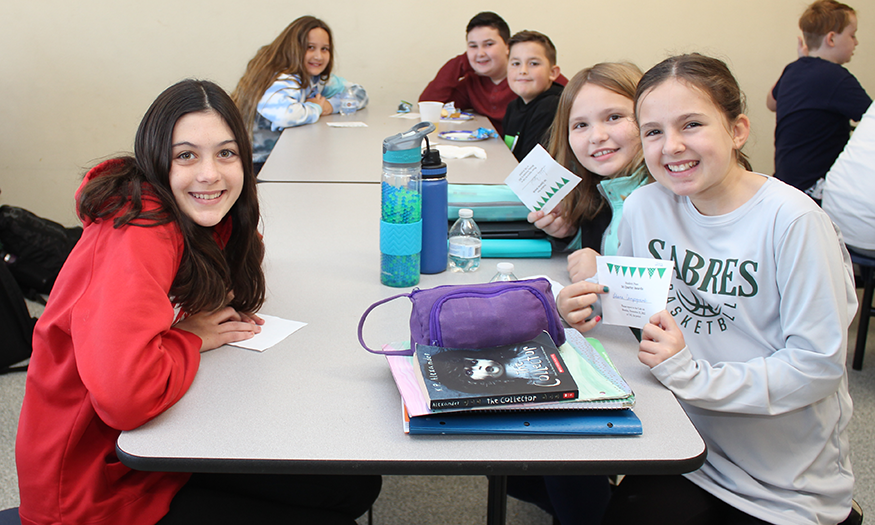 Schalmont Middle School held a Sabre Citizen 1st Quarter Award Breakfast Monday to recognize students who have a good attitude, are enthusiastic and put forth a good effort.
Faculty and staff nominate students for the awards each quarter and students enjoy a special breakfast during first period where they can spend time with friends.
Congratulations Alaina Askew, Logan Beston, Nicholas Beyer, Adriana Boss, Noah Boyle, Ashley Brassard, Dominick Brooks, Connor Brooks, Destiny Brown, Christopher Buckton, Lincoln Bullock, Liliana Campagnano, Addisyn Casaw, Austin Castillo, Anna Catalano, Chloe Cataldo, Sandra Cirilla, Michael Collins, Matthew Countermine, Warren Curtin, Kennedy Decker, Schuyler Ferraro, Natasha Figueroa, Mason Fitzgerald, Ava Gardy, Shaeli Gravell, Dylan Greklek, Lorenzo Groulx, Shea Haggett, Rosemary Harrington, Violet Herrera, Dan Hladik, Xan Horning, Daniel Hughes, Zarah Ismael, Jordan Iyer, Elise Judeikis, Owen Keith, Hania Khan, Chad Kirker, Logan Koch, Krystal Koegler, Joel Kushner, Hannah Lansing, Robbie Lombardi, Lincoln Lonardelli, Justin Madison, Brenden Majkut, Stella Mallozzi, Stella Mallozzi, Cheyanne Mancini, Shekkinah Mathurin, Allie McLear, Zoey Myers, Maria Ndeme-Egbe, Tirone Nelson, John Neuhaus, Aubrey O'Donnell, Chase O'Donnell, Giuliana Pezzuto, Makayla Priest, Lucy Reece, Abigail Rose, Frank Salluzzo, Ricky Salvati, Peyton Schrom, Maria Silvestri, Aiden Sindoni, Lucas Singer, Haleigh Skinner, Kelsey Surin, Izabelle Takechand, Abby Tanner, Abigail Tanner, Lauren Tur, Juliana Verrigni, Alice Watson and Lucy White!