Schalmont Central School District spans five towns and three counties to serve approximately 1,900 students in kindergarten through 12th grade. The district is home to three school buildings – Jefferson Elementary School, Schalmont Middle School and Schalmont High School.
Jefferson Elementary is split into two houses – one for grades K-2 and one for grades 3-4. The Middle School comprises grades 5-8, and is located on the same campus as the High School, which serves grades 9-12.
While academics are at the heart of education, students also enjoy a variety of extracurricular programs that expand the learning experience beyond the classroom and offer unique, creative outlets for expression.
Schalmont produces scholar-athlete teams, accomplished artists, award-winning musicians and civic-minded youth who volunteer their time to help community members in need.
In return, Schalmont has enjoyed the support of active, involved parents, businesses and residents who have been instrumental in developing and maintaining a strong instructional program.
Mission Statement
The staff and community of Schalmont Central School District will provide programs, resources and facilities to foster a positive learning environment. Each individual will be encouraged and assisted to grow emotionally, intellectually, physically, and socially to meet the challenges of the future.
Our Name
The district's name, adopted following a student contest in 1956, was derived from the beginning letters of the three counties it serves: "Sch" for Schenectady, "al" for Albany and "mont" for Montgomery.
Superintendent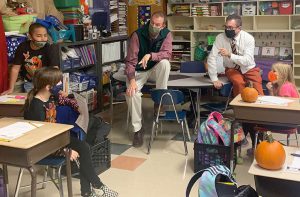 Dr. Thomas Reardon joined Schalmont CSD as Superintendent in July 2020. He previously served as Superintendent for Wynantskill Union Free School District for five years. Prior to that, he served as Principal of Voorheesville Elementary School from 2009 to 2015.
Dr. Reardon began his career as a middle school English Language Arts Teacher in the Bethlehem Central School District, before moving into an administrative position as Assistant Principal at Slingerlands Elementary School. He also has spent years working as an adjunct professor in teacher education programs around the Capital District and has published articles pertaining to best teaching practices, collaborative practices, and moral, culture, and climate.
Dr. Reardon uses Twitter to share the great things going on at Schalmont CSD. Follow him at https://twitter.com/schalmontsupt.
Dr. Reardon welcomes questions from our community. Please contact him whenever you have a question.