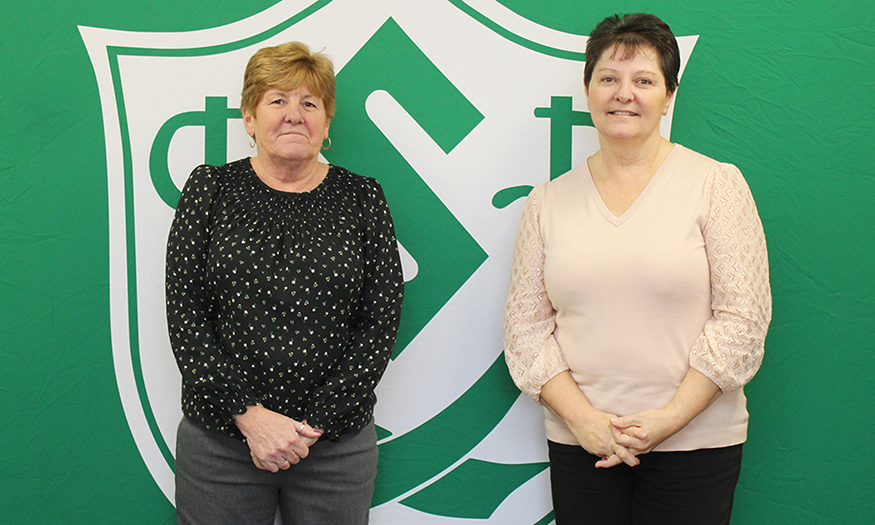 Schalmont is pleased to announce Brenda Leitt and Laurie Kapfer are the district's new School Business Administrator and District Treasurer, respectively.
Mrs. Leitt and Mrs. Kapfer, who have been with Schalmont for 20 years combined, were appointed at last night's Board of Education meeting.
Mrs. Leitt has worked as Schalmont's District Treasurer for the past 10 years and has twice served as interim Business Official, including since September when Joseph Karas left to become Assistant Superintendent for Business and Finance at the Albany City School District.
While Schalmont conducted a search for a new business official over the past three months, Superintendent Dr. Thomas Reardon said it became clear that Mrs. Leitt was the best fit for the position.
"Nothing is more exciting than to see one of our own internal candidates surface as the right person to advance in the next chapter of their career," said Dr. Reardon. "I could not think of a finer, more precise individual to continue to lead our budget management. We congratulate Brenda on earning a position not by answering a few questions in an interview but through years of proving her loyalty and skillset to Schalmont."
For the past 10 years, Mrs. Kapfer has served as Senior Account Clerk in Accounts Payable. She will succeed Mrs. Leitt as District Treasurer with Schalmont already starting a search process to fill her previous position.
"In the same vein of rewarding those who have illustrated the epitome of dedication, loyalty and a clear commitment to Schalmont, it is a pleasure to announce Laurie will assume the position of Treasurer," said Dr. Reardon. "Having observed Laurie's work ethic for the past three years, it is clear she takes pride in her work and to see her assume a position of more financial responsibility puts my mind at ease."
Congratulations Mrs. Leitt and Mrs. Kapfer!