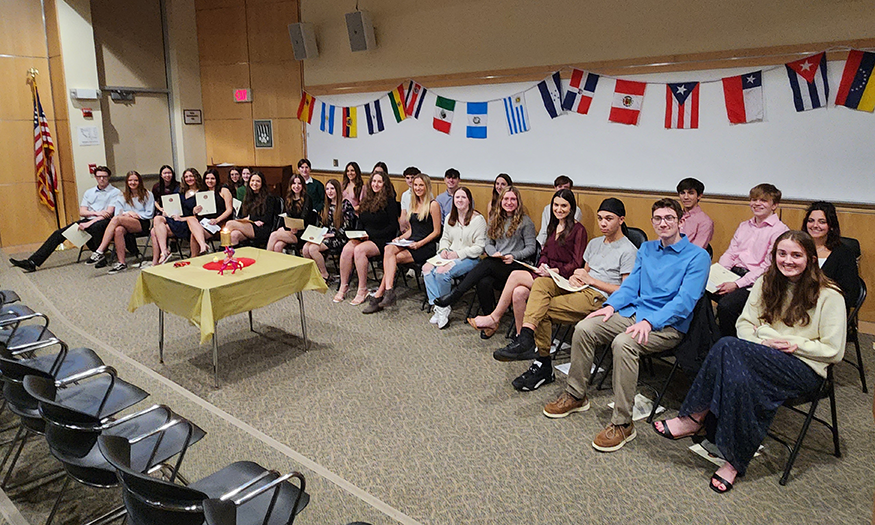 Schalmont High School's new Spanish Honor Society held its first ceremony last week as 38 students from Spanish Levels 4 and 5 were inducted.
"The Spanish 5 University in the High School class was instrumental in helping to found our new chapter," explained Teacher Sandra Riggin. "They chose the name 'Alebrijes' as our chapter name because of watching the movie 'Coco', which features the whimsical animal spirit guides."
Congratulations Veronica Alteri, Brayden Carroll, Gemma Comenzo, Aaron Coom, Mia Defayette, Delia DiCarlo, Michaela DiCocco, Madison Fiske, Mikaela Frank, Kiera Garcia, Emily George, Jamie Greene, Madeline Holub, Grace Iovinella, Hope Kasowski, Meg Lasher, Taylor Laustrup, Alexa Little, Kaylie Locke, Ja'kai Martin, Aidan McTague, Ava Muse, Stephanie Nielson, Juliana Parks, Madelyn Quick, Merrick Rash, Mariana Riccio, Haley Rider, Owen Rowe, John Ryan III, Dina Santabarbara, Erin Satterlee, Bennett Schaefer, Abigail Sellnow, Ryan Shultis, Aidyn Soehl, Caiden Smith and Alexandra Stelline!