This year there are two individuals running for two seats on the Board of Education. Each seat is a three-year term. Candidates will appear on the ballot in this order, based on a random drawing: Kate Kruk and Kevin Thompson.
Kate Kruk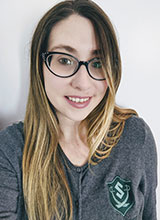 Kate Kruk earned her bachelor's degree in English Education from The College of Saint Rose. She has spent many years as a successful event director and fundraising specialist in the local nonprofit industry. This experience has made her very aware of budget constraints and how to make every penny count. Currently, Ms. Kruk is the Director of Community Engagement for Livingston Energy Group, A Lynkwell Company. She is an active Schalmont community volunteer supporting the Makerspace program, Friends of Schalmont Libraries, Friends of Music and coordinated the Jefferson Turn off the TV initiative for several years. Ms. Kruk is on the Board of Directors for the National Electric Vehicle Association and leads their policy committee, and is the co-chair of the sustainability taskforce for the New York State Tourism Industry Association. She and her husband, David are kinship caregivers who have had two children graduate from Schalmont. Ms. Kruk serves on the Policy and Strategic Planning committees.
Kevin Thompson

Kevin Thompson is serving his sixth term on the Schalmont Board of Education. He is the Chief Financial Officer and Treasurer of SRI Fire Sprinkler, LLC & Eckert Mechanical, LLC. He also is licensed in New York State as a Certified Public Accountant (CPA). He has previously served as both Vice President and President of the Board. Since his first term he has served as a member of the Audit Committee. Prior to serving on the school board, he served on the Schalmont Budget Advisory Committee for more than seven years. His active professional memberships include the American Institute of Certified Public Accountants and the NYS Society of CPAs. Mr. Thompson received his bachelor's degree from the University at Albany. He and his wife Carol live in Rotterdam and have two children who are Schalmont school alumni.